Accommodation options for WMOC 2024
The organisers have booked over 3,000 beds from Turku and surrounding areas, varying from 4-star hotels to hostels. Elämys DMC is our official travel partner of the event. For more information and booking, please visit: Elämys events
---
Hard floor accommodation / Lattiamajoitus
If you are looking for something simple, we offer also hard floor accommodation option in classrooms at Hostel Linnasmäki. Showers and toilets are in the same building. There are no lockers available. Price is 23 € /person /night. Price includes mattress, blanket, pillow, and breakfast. Bring your own bed linen & towel. Reservation (name, nationality, sex, dates, e-mail address, telephone number) at latest on 10.6.2024 to info@wmoc2024.fi. Payment at check-in at Hostel Linnasmäki.
Tarjoamme lattiamajoitusta luokkahuoneissa Hostel Linnasmäessä. Suihkut ja wc:t samassa rakennuksessa. Lukollisia kaappeja ei ole. Hinta 23€/hlö/ yö sisältäen patjan, peiton, tyynyn ja buffetaamiaisen. Lakanat ja pyyhkeet majoittujien omat. Sitovat varaukset (nimi, seura, ajankohta, sähköpostiosoite, puhelinnumero) viimeistään 10.6.2024 sähköpostilla osoitteeseen info@wmoc2024.fi. Maksu Hostel Linnasmäessä sisäänkirjautumisen yhteydessä.
Hostel Linnasmäki Location / Sijainti
---
Other accommodation options
To help you with your travel arrangements we have listed some other accommodation options from camping areas to private villas below. The list will be updated with new options every now and then. All options listed below are offered independently of the WMOC 2024 organization, so please contact the providers directly, not through the WMOC 2024 office.
There are plenty of possibilities for home or cottage accommodation in the coastal area of the Turku Archipelago. Try for example home accommodation via Airbnb.
Camping areas and centers
Ruissalo Camping - Visitturku.fi A well maintained camping area on the tip of the beautiful island of Ruissalo (Turku).
Naantali Camping Online booking opens in January 2024
Solliden Camping in Parainen
Kunstenniemi Camp Center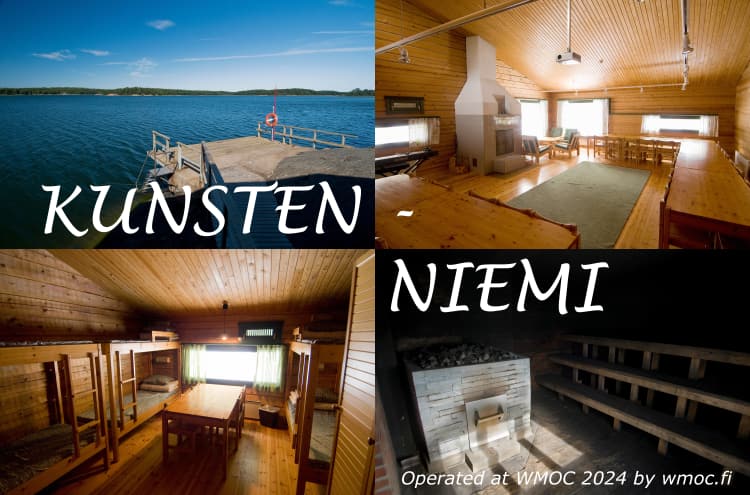 Camp center accommodation near Long Final at the Kunstenniemi camp center in a beautiful archipelago landscape in Rymättylä by the sea. The distance from the camp center to the LF arena is 6 km, driving time 9 min. The accommodation is only available on the night before and the following night of the Long Final, Thu-Sat 8-10 August 2024.
Accommodation is suitable for small groups, families, couples and individual competitors who appreciate more affordable options than hotel accommodation.
Kitchen, Wi-fi, toilets, showers, sauna, swimming pier and beach are in shared use for quests. Breakfast and dinner is available in the canteen of the camp center.
Accommodation capacity:
Thu-Fri 8.-9.8.: 67 persons
Fri-Sat: 9.-10.8.: 31 persons
Prices from 29€/person/night.
There is also the possibility of tent accommodation in your own tents, including the use of showers and the beach. Canoes for an additional fee.
After the long final on Friday 9.8. shower/sauna and smoke sauna services are available also for non-stayers.
More information and on-line reservations
---
Alppila (Turun Suunnistajat Club Lodge / Seuramaja)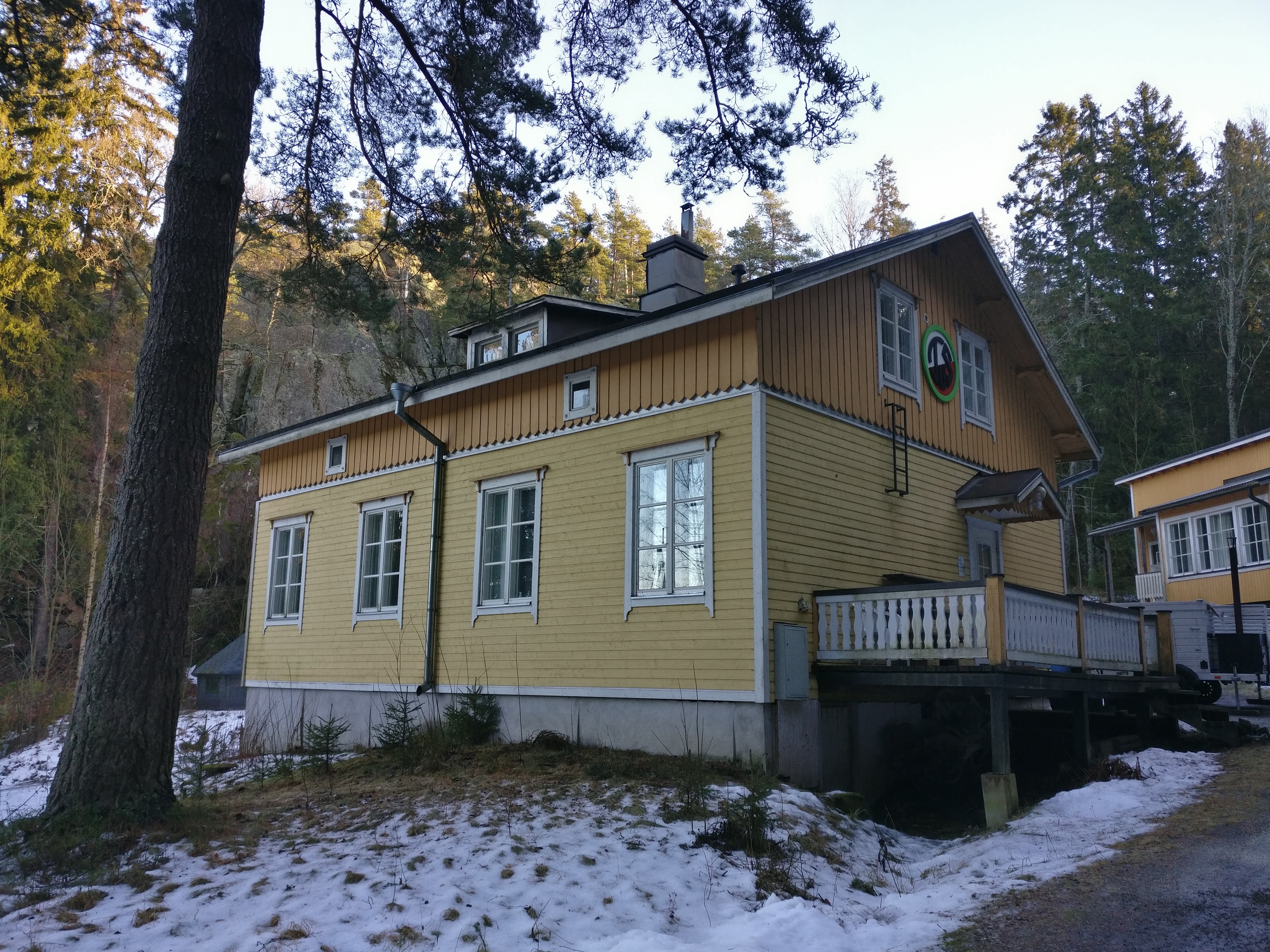 Turun Suunnistajat club lodge, Alppila, is available for rent during WMOC 2024 at a rate of 1200 euros. Originally serving as housing for estate workers, Alppila underwent renovations by Turun Suunnistajat in 1995. Today, it provides excellent facilities for accommodation for orienteering clubs or friends and families. Alppila features three separate sleeping rooms, offering a total of 14 beds. Bookings from jarmo.jerkku@gmail.com
Turun Suunnistajien seuramaja Alppila on vuokrattavissa WMOC 2024 ajaksi hintaan 1200 eur. Alppila on toiminut aikoinaan läheisen kartanon työmiesten asuntolana. Turun Suunnistajat peruskorjasi rakennuksen vuonna 1995 ja nykyään se tarjoaa erinomaiset puitteet leireilyyn tai vaikkapa majoittumiseen kisojen ajaksi. Alppilassa on kolme erillistä majoitushuonetta ja yhteensä 14 vuodepaikkaa.
For more information (in Finnish) and photos visit Turun Suunnistajat
---
Accommodation in the idyllic seaside Harjattula
Two separate houses with rooms for one/two persons. Suitable for groups and clubs. Distance to Sprint Final 22 km, 30 minutes' drive by car.
House "Saukkola": 6 x 2pers.
House "Talonpoika": 5 x 2pers., 1 x 1pers.
Total amount of beds for 23 persons. Pictures and more info (in Finnish)
Price
Double room: 150 €
Single room: 118 €
Offer for WMOC participants 4-5 nights/ -15%, 6-7 nights/-25%.
Breakfast and bedlinen included. Possibility for sauna by seaside and dinner. Reservations by 31.1.2024: vastaanotto@harjattula.fi
Harjattula location / sijainti
Turun Kakskerrassa, meren äärellä, on tarjolla majoitusta. Harjattulasta on Tuomiokirkolle 22 km, n. 30 min ajoaika. Sopii esimerkiksi seuraporukalle. Majoitustiloja yht. 23 hengelle kahdessa erillisessä talossa. Tutustu tarkemmin!
Saukkola 6 x 2 hlöä
Talonpoika 5 x 2 hlöä & 1 x 1 hlö.
Hinnat
2 hh huone: 150 €
1 hh huone: 118 €
WMOC majoittujille 4–5 yötä/ -15%, 6-7 yötä/-25%.
Aamiainen ja liinavaatteet sisältyvät hintaan. Rantasauna varattavissa, päivällismahdollisuus. Varaukset 31.1.2024 mennessä ja tiedustelut suoraan: vastaanotto@harjattula.fi
---
Private accommodation
Ohje majoituksen tarjoajille / Instruction for private accommodation providers (in Finnish only).
Villa / Omakotitalo
Vuokrataan WMOC 2024 ajaksi kalustettu omakotitalo, vm 2013, 203m2 + 119m2 kellari, 4MH, 2OH, 2 PH, S, 3WC, KHH, Lämmin autotalli + autokatos. Kolmessa kerroksessa. Yht. 11 makuupaikkaa. 6 km kauppatorilta. 2km sisällä useampi uimaranta.
For rent for WMOC 2024, furnished Villa, from 2013, 203m2 + 119m2 basement, 4 bedrooms, 2 living rooms, 2 showers, Sauna, 3 toilets, laundry room, Warm garage + carport. 3 floors. Beds for 11 guests. Six km from City Centre. Within 2km range is located several swimming beaches.
Uthyres för WMOC 2024, möblerad Villa, byggd 2013, 203m2 + 119m2 källare, 4sovrum, 2 vardagsrum, 2 Badrum, Bastu, 3 toaletter, klädvårdsrum, Varmt garage + carport. 3 våningar. Sängar för 11 gäster. 6 km från salutorget. Inom 2km radie ligger flera  badplatser.
Vuokra/Rent/Hyra 4000€. Lisätiedot/ for more information / mer information (eng, swe, fin, fr, nor): simon.frojdo(at)gmail.com