Accommodation options for WMOC 2024
The organisers have booked over 3,000 beds from Turku and surrounding areas, varying from 4-star hotels to hostels. Elämys DMC is our official travel partner of the event. For more information and booking, please visit: Elämys events
There are also plenty of possibilities for cottage accommodation in the coastal area of the Turku Archipelago. A well maintained camping area can also be found on the tip of the beautiful island of Ruissalo, Ruissalo Camping. Ruissalo Camping - Visitturku.fi
Other accommodation possibilities
Below you can find some other accommodation possibilities. These possibilities are offered independently of the WMOC 2024 organization, so contact the providers directly, not through the WMOC 2024 office.
You can also try to find home accommodation via Airbnb.
Instructions for private accommodation providers
Ohje majoituksen tarjoajille (in Finnish).
Kunstenniemi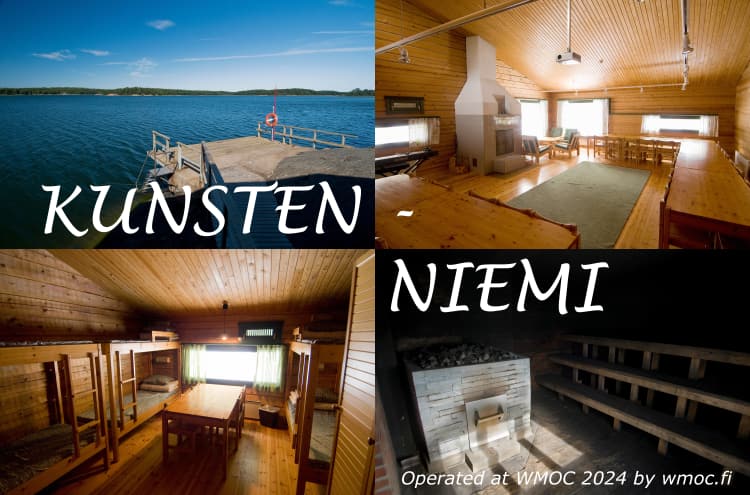 Camp center accommodation near Long Final at the Kunstenniemi camp center in a beautiful archipelago landscape in Rymättylä by the sea. The distance from the camp center to the LF arena is 6 km, driving time 9 min. The accommodation is only available on the night before and the following night of the Long Final, Thu-Sat 8-10 August 2024.
Accommodation is suitable for small groups, families, couples and individual competitors who appreciate more affordable options than hotel accommodation.
Kitchen, Wi-fi, toilets, showers, sauna, swimming pier and beach are in shared use for quests. Breakfast and dinner is available in the canteen of the camp center.
Accommodation capacity:
Thu-Fri 8.-9.8.: 67 persons Fri-Sat: 9.-10.8.: 31 persons
Prices from 29€/person/night.
There is also the possibility of tent accommodation in your own tents, including the use of showers and the beach. Canoes for an additional fee.
After the long final on Friday 9.8. shower/sauna and smoke sauna services are available also for non-stayers.